Episodes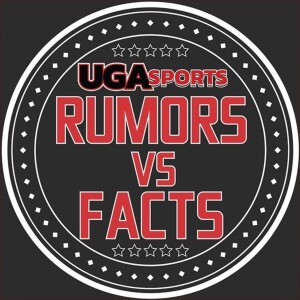 Tuesday Mar 14, 2023
Tuesday Mar 14, 2023
UGASports RUMORS vs. FACTS comes to you once again talking all things Georgia football recruiting. The show is presented by Turner, Wood, & Smith Insurance (twsinsurance.com) in cooperation with Auto-Owners (auto-owners.com).
It's a massive week of visitors for the Georgia Bulldogs. Five-star visitors have already begun to filter through Butts-Mehre and will continue to through the 19th. Dylan Raiola and Julian Lewis are both coming into the Classic City to see Georgia's offense practice under the direction of Mike Bobo.
Five-star receivers, multiple Class of 2024 running backs, and some immensely talented defenders have and will be in town. The UGASports recruiting staff covers it all.
Catch the full video and audio replays below. Make sure to subscribe, comment, like, and turn on notifications wherever you consume the premiere weekly Georgia football recruiting show, UGASports RUMORS vs. FACTS.
Also, join UGASports today and gain access to The Vault. The Vault is the recruiting message of UGASports that brings you the latest insider information on all things Georgia football recruiting.